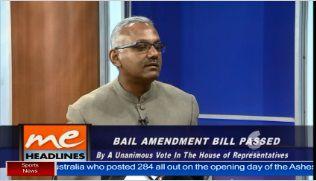 With two fishermen still missing after the pirate attack last week, Member of Parliament for Couva South Rudranath Indarsingh  claims the Coast Guard has no fuel for their vessels to man the borders. 
He is calling on the Coast Guard to come clean with the public on how many vessels they have patrolling the borders.
"How many of these boats have been actually on the high seas? What is the patrol cycle? " Indarsingh asked while speaking on TV6's Morning Edition. "There is a public relations unit in the Coast Guard and I would have expected that a national tragedy of this proportion that at least the minister of national security or the commanding officer or the public relations unit of the coast guard would have held a press conference."
We reached out to Minister of National Security Stuart Young who sent us a lengthy response.
"There is no truth to this unfounded allegation being made by the UNC opposition and in particular MP Indarsingh, on this occasion.
I have spoken to the Chief of Defence Staff, who has informed me that there is no truth to this lie of the opposition that the Trinidad and Tobago Coast Guard have no fuel.
The continued disinformation being spread by the UNC and their strategy of attacking our Coast Guard is destructive.
I have noted that the opposition's current playbook technique is to attack our Defence Force and Coast Guard in particular. I condemn this irresponsible behaviour and question the UNC's motive in attacking our services.
I assure the population that, as Minister of National Security, I will continue to work with the Trinidad and Tobago Defence Force and our Coast Guard to maintain morale and also protect them from the desperate unwarranted attacks of the UNC and their members of parliament who are hell bent on spreading complete untruths.
I have been informed that MP Indarsingh was told by a senior officer of the coast Guard that there is no truth to the allegation that they have no fuel. Despite this, he continues to spread this untruth. I condemn this dishonesty of the opposition and call upon them to stop attacking the men and women of the coast guard."