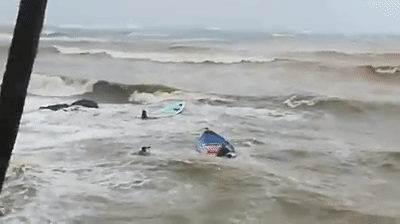 A Tropical Storm Warning remains in effect for Trinidad and Tobago. As of 11am today, the centre of TS Karen was located near 12.5 N 61.7 W.
Although TS Karen is moving away from the Southern Winwards, Tropical Storm conditions may still be experienced at this time. Periods of heavy to intense rain/ showers and/ or thunderstorms, will continue today.
Heavy/ intense downpours can result in street/ flash flooding. Gusty winds in excess of 70km/ hr can be expected and the risk of landslides/ landslips is very high in areas so prone. Sea conditions are also likely to become occasionally rough and choppy.
Shelter in place if needed until the danger passes. Find a sturdy place and remain there. Turn off electrical breakers if your home is flooded. Do not go outside unless given the all clear. Be prepared for occasionally rough seas and dangerous currents. Listen to wireless radios for updates. Monitor updates from the official weather source. The Trinidad and Tobago Meteorological Service. For more information on the instructions and shelters: www.odpm.gov.tt