The Queen's Royal College Old Boys' Association (OBA), The QRC PTA and the Management Team of the College will be hosting the 5th edition of Fete Royal on Saturday January 27th, from 6:00pm to 1:00am on the college compound.
The annual event is the biggest fundraiser on the school's calendar and its proceeds go towards supporting the college's infrastructural, educational and co-curricular needs. From the last two fetes, the OBA has been able to contribute to the ongoing restoration of school's science block. The budget for the restoration is approximately $4,800,000 and the hope is that the profits from this year's event can make an even bigger impact towards the project's completion.
From year one, the Fete Royal committee has been paying keen attention to always improving the experience at the event. This being its 5th year, they have developed a "High 5" of features that patrons can look forward to: great vibes; wonderful ambiance of the college's magnificent venue; zone out in the Kings' and Queens' Quarters and be treated like royalty; music from 5 top acts and more; and of course, the best food and drinks on offer.
Entertainment on the night will be provided by Kes the Band, Destra and Bakanal, Dil E Nadan, Ultimate Rejects, Voice and, recently added, Shal Marshall. DJ Chacha alongside Indian promise to keep you singing and your waistline swinging.
As usual, the menu boasts of a wide array of selections from our usual food providers, such as Tandoori Hut (Rasam), Rib House, Barrow's Catering, Garden Kitchen, Passage to Asia and Atlantic Caterers to name a few, and for the first time, introducing "Local Wild Meat", and other new items to cater to a variety of tastes.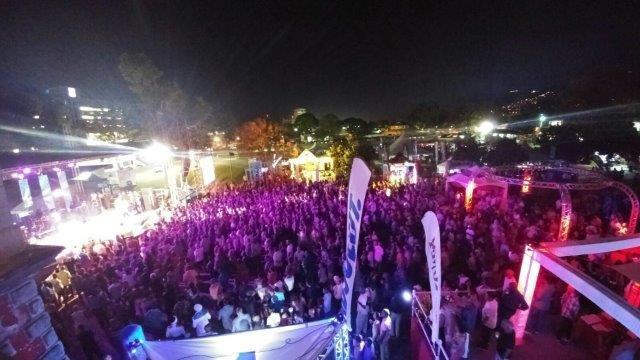 Fete Royal must say "Cheers to 5!" with great drink options, which include an Absolut bar, tequila cocktails and shots, and more provided by our main sponsor Massy Distribution as well as the Carib Zone provide by Carib Brewery. The Kings' Quarters and Queens' Quarters will be the pampering zones for the male and female patrons, with hairstyling and makeup, and barbering stations, and a brand new "Hookah Bar" experience, all while premium brands are being served.
As usual, security will be top notch in and around the venue to ensure the safety of our patrons and their valued property. Secured parking will be available at TATIL Car Park on Maraval Road and around the venue. However, patrons are urged to ensure that they park their vehicles in a responsible manner.
Our patrons will have the opportunity to win 2 airlines tickets to Miami courtesy Caribbean Airlines Limited and hampers donated by Massy Distribution.
The committee thanks the sponsors for partnering with Fete Royal to make this a spectacular event. Cheers to Massy Distribution, Carib Brewery, NLCB, I95.5, Hott93.5, Courts, Blue Waters and TSTT.
Tickets are available from Detour Stores located in West Mall, POS, Grand Bazaar, Trincity Mall, Price Plaza Chaguanas, Gulf City La Romaine, Arima and Gulf City Lowlands Tobago, in addition to Champs Fleurs Auto Services and Rumours Sports Bar and from Committee members. Call 472 4204, 387 2411 and 795 0050 or email feteroyaltickets@gmail.com.