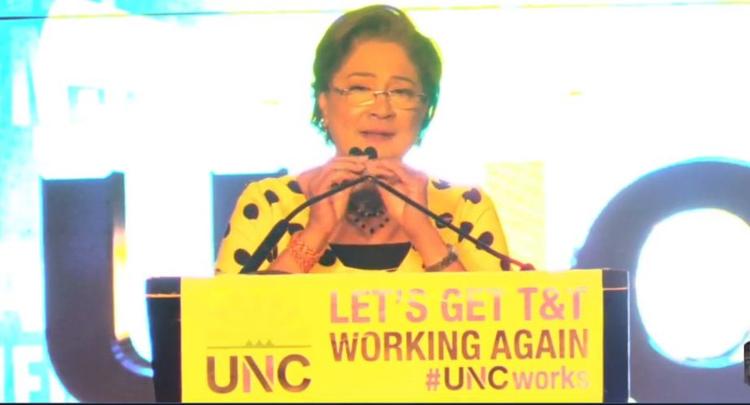 Political Leader of the UNC Kamla Persad-Bissessar made a slightly confusing statement to end her speech in Sangre Grande on Monday night.
She said she is breaking from tradition and will not host a mass rally on Saturday, the final day of campaigning ahead of the December 2nd Local Government Election. 
But in the same breath, she said she was in fact, hosting a mass rally, in the hotly contested Sangre Grande district.
Traditionally  both major parties host grand televised spectacles  on the final day of campaigning in a last ditch effort to sway potential voters, or gauge support by boasting of large crowd sizes. The PNM is hosting theirs at the Jean Pierre Complex.
Persad-Bissessar told her supporters during her Sangre Grande political meeting, she wants to give the money the party would have spent to host a rally to the candidates so they can be on the ground, in their respective corporations on that day.
"If we host a mass rally in Constantine Park or whichever park, then we're taking everybody out of their communities. We're taking our candidates into one locked down zone," she said. "That costs a lot of money. I prefer to take that money and resources and give it to the candidates to fund their election campaign." 
Instead she's proposing the candidates will "stay in their section" and host motorcades, and walkabouts within the  14 corporations. She promised a "tsunami of yellow" all across the country.
"All of Saturday morning that's what we'll do," she said toward the end of her speech. "And then listen guys, the whole UNC will journey to Grande, and we'll end here in Grande, on Saturday, for a mass rally."
She expected all the motorcades to converge in Sangre Grande around 6:30pm on Saturday. 
Sangre Grande is the corporation to look at this Local Government Election. In 2016 it split 4-4 between the PNM. It's one of maybe two corporations (Siparia being the second) that is too close to call at this stage.
Persad-Bissessar promised Sangre Grande residents a solar farm, more commercialisation including a  park and ride system, and stricter regulation for quarries, if she's returned to power.