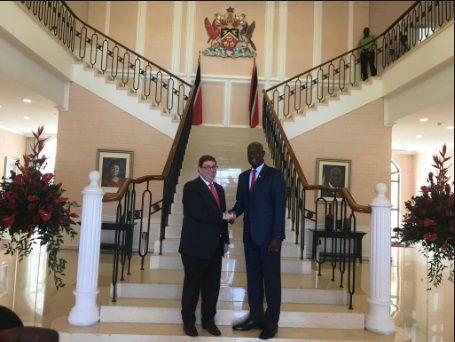 Cuba's Foreign Affairs Minister Bruno Rodriguez is in Trinidad. He was met by Prime Minister Dr. Keith Rowley and Foreign and CARICOM Affairs Minister Dennis Moses. 
In a tweet, Rodriguez said the two nations reaffirmed their bilateral ties . 
Fui recibido por el Dr. Honorable Keith Christopher Rowley, Primer Ministro de Trinidad y Tobago. Ratificamos la voluntad común de continuar fortaleciendo las relaciones de hermandad y los vínculos económico-comerciales y de cooperación entre nuestras naciones. | #Cuba pic.twitter.com/1POpo2rvc9

— Bruno Rodríguez P (@BrunoRguezP) June 12, 2019
Trinidad and Tobago forged diplomatic ties with Cuba in 1972. 
When he leaves Trinidad, Rodriguez is expected to visit St Lucia and Barbados. 
I have arrived on an official visit at Trinidad and Tobago, a sister Caribbean nation to which we are united by historical bonds of friendship and cooperation. pic.twitter.com/3LbDhemXZ4

— Bruno Rodríguez P (@BrunoRguezP) June 12, 2019
The Office of the Prime Minister said earlier this year President of Cuba Miguel Diaz-Canel Bermudez extended an invitation to Prime Minister Rowley for an official visit to Cuba. The release didn't state if the PM would visit.
Prime Minister Dr the Hon Keith Rowley received a courtesy call from @BrunoRguezP, Minister of Foreign Affairs, Republic of Cuba at the Diplomatic Centre, St Ann's today. pic.twitter.com/jW3wrmSAhC

— OPM Trinidad&Tobago (@OPM_TT) June 12, 2019