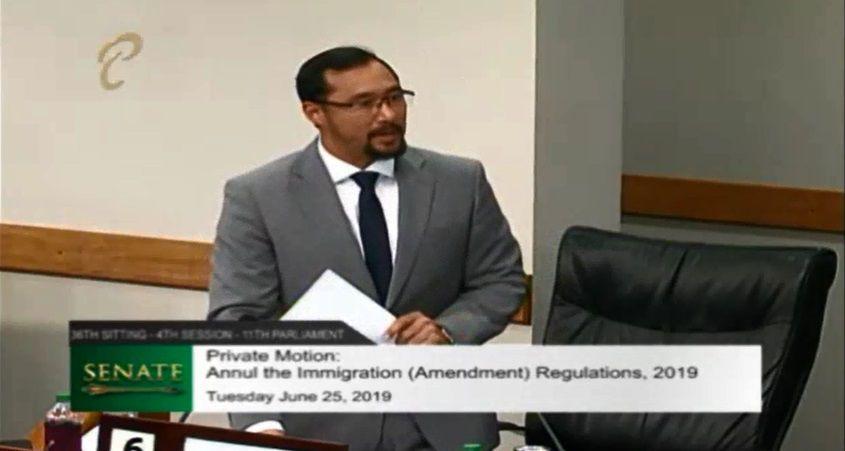 National Security Minister Stuart Young repeatedly accused the opposition of trying to mislead the nation when it comes to Venezuelan migration in the country. Speaking in the Senate last evening, Young acknowledged the UNHCR's estimate of 40,000 Venezuelans as of two years ago but he questioned where they got their numbers. 
He then went on to confirm there were 16,523 Venezuelans registered in the process. 
"Not 40,000. Not the 100,000 that that Senator, Senator Mark just declared to the world," Young said.
He acknowledged there may still be some who didn't register and promised the immigration laws would apply to them. He denied claims there were thousands still living illegally in the country.
On the Monday after the registration ended, TV6 reported on a slew of Venezuelans who had gathered outside the Immigration Division in San Fernando claiming they were told they'd be able to continue registering. Young believes they were sent there to create mischief.
"I asked the heads of security...that took place on Monday, was that mischief because on Tuesday nobody was there," Young posited.  "If persons were still not registered would they not have still be queuing up, still outside all the immigration centres, begging to be registered?"  
He said no ID cards have been distributed as yet while the "due diligence" is taking place. 
Young then turned to the issue of Venezuelans voting in the upcoming local government and general elections. Opposition Leader Kamla Persad Bissessar has been promoting the notion  on public platforms. 
Young declared the Venezuelan Registration does not get them "one step, one minute, one hour, closer to the calculation of time to become a citizen of Trinidad and Tobago."
The only people allowed to vote in elections in Trinidad and Tobago are citizens, Commonwealth Citizens living in the country for a year, or non Commonwealth citizens living in the country for five years.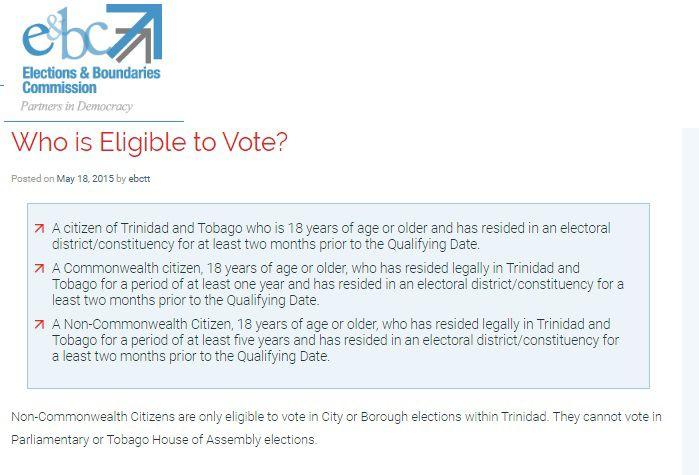 He revealed the work permit exemption isn't guaranteed for the year. It's valid for six months with the an extension for another six months. 
"However prior to the prior to the expiration or permitted entry, migrants will be required to report to the designated immigration divisions office and provide evidence of their employment and well as places of abode and subsequently they may be granted a further six months," Young read out. 
"I say without any fear of contradiction that this registration process has absolutely nothing to do with the registration of any Venezuelan to vote in any election in Trinidad and Tobago."